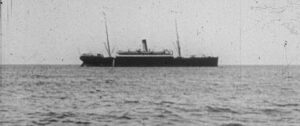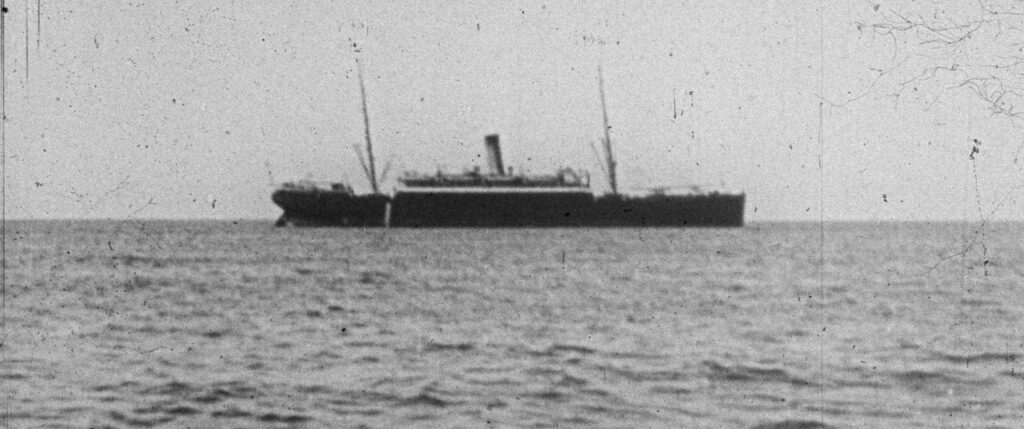 December 1919. The U.S. government deports 249 anarchists and radicals on the "Soviet Ark." Five years later, this same ship becomes the décor for Buster Keaton's slapstick comedy "The Navigator."
«Navigators draws on a variety of materials shot and reworked on 16 and 35mm film on the optical printer and the rostrum camera. In order to make the film, I collected film prints and learned how to use the wide range of machines for shooting, reworking, and developing photochemical film at L'Abominable, an artist-run film lab in the Paris region. I also sought out books, photographs, newspapers, postcards, 78 rpm records, and various ephemera related to the First Red Scare, the Buford, and the deportation. The emotion of carefully turning a yellowed page, of inspecting signs of use and wear, and of focusing in on texture and printing techniques were all important sources of inspiration to me when reworking these physical remnants of history transformed by the tools of photochemical film. In regard to the printed materials used in Navigators, I chose to shoot the items from my own collection with color film and to use black and white stock for the digitally-sourced archives. In addition to these archival materials, the film's letterpress intertitles, excerpted from the writings and letters of the deportees, were printed by Eric Nunes (Ampersand Press Lab) before being shot on 16mm film on the rostrum camera. The film's soundtrack was made from slowed-down 78 rpm records, the majority of which were released during the period of the First Red Scare in the United States.»
— Noah Teichner
Origin of archival materials
16mm print of The Navigator, as well as 16mm and Super 8 prints of other Buster Keaton films and slapstick comedies of the era (filmmaker's collection); 35mm archival prints of newsreels (Library and Archives Canada - Dawson City Museum and Historical Society Collection) and other public domain newsreels; the 1921 Soviet non-fiction film The Funeral of P. A. Kropotkin (Krasnogorsk Russian State Archives of Film and Photo Documents); printed materials, including first edition books, magazines, newspapers, postcards, etc. (filmmaker's collection); digitized paper archives reworked on film (International Institute of Social History, Library of Congress, United States National Archives, etc.); paper archives and photographs (National Archives of Finland); 78 rpm records, mostly dating from 1919-1920 (filmmaker's collection).
Editing
Emmanuel Falguières, Noah Teichner
Production
Gaëlle Jones (Perspective Films)
Sound Editing, Mixing
Mikaël Barre
Noah Teichner (b. 1987, USA) is a filmmaker, artist, and researcher
based in Paris, France. His films, performances, and installations
make use of a variety of sound and image technologies to look at the
intersections between humor and historiography. A graduate of the
Paris-Cergy National Graduate School of Art (MFA, 2016) and the
University of Paris 8 (PhD, 2021), he teaches in the Film Studies
department of Paris 8 and in the Master's program of the ArTeC
graduate school. As a film and media historian, he has given talks and
published articles on subjects related to the history of comedy, media
archaeology, and sound studies. He is a member of the artist-run film
lab L'Abominable – Navire Argo, where he made first feature
Navigators (2022), an essay film that premiered at the festival
Cinéma du Réel in 2022 and was released theatrically in France in
July 2023.