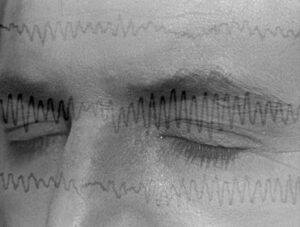 An extraordinary found footage documentary inspired by Stanisław Lem's "Solaris". A trance-like, personal story about loss, mourning & memory. The film consists of excerpts from 70 films produced by the Educational Film Studio in Lodz in the 1960s and the first radio adaptations of "Solaris." Lem begins writing "Solaris" the same year that Resnais' "Hiroshima Mon Amour" is released" – says Kuba Mikurda – Like Resnais' film, I find "Solaris" a fascinating study of post-traumatic memory – repressed memories that pave their way into consciousness and demand to be expressed.
«All materials have been cut from their original context and stripped of their original function, which was primarily to illustrate short lectures on medicine, biology, technology, cosmology, etc. In "Solaris Mon Amour" they were used to build a visual narrative based on Stanislaw Lem's novel. We mainly looked for close-ups and abstract shots, so that the shots did not contain too much knowledge of the original context. We also tried not to use facial shots (except for the last part of the film), so that the viewer would not identify with the characters on the screen and more with the character's voiceover. We made the planet Solaris primarily from microscope shots – bacteria, protozoa, tissues, etc.»
— Kuba Mikurda
Category
Documentary, Experimental
Origin of archival materials
75 educational films produced at the Educational Film Studio (Wytwórnia Filmów Oświatowych) in Lodz, excerpts from the first two radio adaptations of the novel "Solaris" produced by Polish Radio in 1962 and 1970
Screenplay
Kuba Mikurda, Laura Pawela & djLenar
Production
the Lodz Film School, vnLab - Essay Film Studio
Mikurda has studied psychology (MA, 2006) and philosophy (PhD, 2012). He works as an Assistant Professor at Film School in Łódz. He has delivered a number of guest lectures abroad, including British Film Institute and Tate Modern in London and Volksbühne in Berlin. He has been a student of the maverick philosopher & psychoanalyst Slavoj Žižek and written a book about his work. He has been five times nominated for Polish Film Institute Award and won the Polish edition of British Council's "International Young Screen Entrepreneur".